School Leadership Team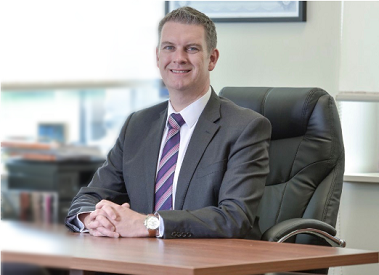 Craig Halsall – Head of school
Craig was educated in the UK, and since acquiring an upper first-class BA honours degree in Economics from University of Sunderland, he also acquired a Masters degree in Educational Leadership, Qualified Teacher Status and most recently his National Professional Qualification for Headteachers (NPQH).
Craig has 17 years of senior leadership experience from the UK and overseas including Kuwait, Kazakhstan and the USA. During this time Craig acquired a balance of experience across independent, public and commercial educational sectors including secondary and primary schools.
Before joining TWA, Craig was Principal of the Nord Anglia International School, New York (NAISNY), a premium prep school following a British and International curriculum. Prior to this, Craig was Head of Haileybury in Kazakhstan, the country's leading international school.
Craig is a qualified international schools' lead inspector and brings a wealth of experience of inspecting many schools and their curricula to KAEC. He has also been a founding member of the development committee for the Association of British International Schools Overseas (AOBSO).
Craig has a range of interests including sport, music and theatre. Craig loves to be involved in community projects having previously been a Magistrate in the UK, a parent governor in two primary schools and undertaken ambassador work for United World Schools. One of Craig's greatest passions is football and he is an FA qualified football coach and avid fan of Liverpool FC! Craig is married to Sarah and has five children aged 7, 14, 15, 20 and 24.
Hannah Tashkandy – Deputy Head Pastoral
Hannah started her journey in TWA in 2016 and has progressed through different leadership roles. With her teaching and administrative experience, Hannah developed and promoted opportunities alongside the teachers for students to reach their full potential graduate successfully. Hannah strives to create a culture that values the character traits essential to leadership such as humility, perseverance and resilience.
She started her career in Early Years Education and her passion for language acquisition has thrived since obtaining a BA honours in English Literature and Linguistics from King Abdulaziz University, Jeddah, Saudi Arabia. Coming from a multilingual family, Hannah firmly believes in multilingual households and schools.
Hannah is a mother of two boys who are both at The World Academy. With her maternal Italian heritage, you will find Hannah cooking in her kitchen, in her garden attending to her home-grown fruit and vegetables or playing football with her boys.
Katy Bailey – Deputy Head Academic
Katy was educated in the UK, although much of her childhood was spent in Asia. She graduated from Durham University with BA Hons in Education specialising in maths and PE. Katy has taught at several large international schools across the Middle East and Asia, as well as in London at St Paul's Cathedral School where she was also a Housemistress. She is a qualified international schools' inspector and has been part of inspection teams across the Middle East for BSME and BSO.
Prior to joining TWA, Katy was a Programmes Director for United World Schools (UWS). In this role, Katy lead a team responsible for training teachers and developing over 100 schools in remote Cambodian communities. During this time, UWS received the 2019 WISE award for their contribution to tackling global education issues.
Katy enjoys playing and coaching netball; she has organised the Inter Gulf Games and participated by captaining the Bahrain Veterans team. Katy is particularly enthusiastic about all activities that bring people together. She has a passion for baking and is an animal lover who adores spending time with her dogs.
Sarah Kelly – Head of Primary
Educated in Ireland with a BA (Hons) in Education from Trinity College, The University of Dublin, Sarah joined TWA in 2013. During her seven years at TWA, she has held positions as a teacher, coordinator and most recently as Head of Primary. Sarah previously taught in schools in Ireland.
As a student-centred educator, Sarah demonstrates that education is holistic – a true opportunity to develop all of a child's gifts. She demonstrates that teaching and learning exceed academic rigour and the ability to cover content. Rather, it actively incorporates the input and skills of every child; for her, a holistic education provides authentic and meaningful school experiences that seek to engage all aspects of the learner. Sarah's teaching career has been geared toward the empowerment of young learners with a strong passion to educate and help blossom young minds into well-rounded, responsible and successful individuals. As a leader, Sarah brings this ethos to the teachers she serves, challenging them to create interactive experiences that engage and heighten learning for all students.
Sarah has enjoyed wonderful opportunities to work with diverse groups of children from all over the world and her educational philosophy is based on her uncompromising belief that all students can be successful given the right environment and the correct supports.